Her long, delicate fingers tapped rhythmically on the keyboard. Each letter, each word was punched in with expert precision and a clear purpose. Outside the sun had long set, replaced by the pale red glow of city lights. Aside from her office, the floor was empty. In fact, the entire building was probably abandoned by now. She keyed in a final full stop and hit send, a grim smile of satisfaction on her lips. She checked the time: 3 a.m.
Alex left her office in a hurry, not because she was anxious to reach her bed, but rather for what, or who waited in it. By now, of course, her lover would be sleeping, but Alex didn't care. The chauffeur drove fast. He was used to his employer's late night moods. The black Mercedes sped through the stone streets of the capital, rumbling over the cobblestones and streaking down the express lane that followed the river.
She rushed up the stairs, not bothering with the lift. She still had her running shoes on – having completely forgotten to remove them during the day. The suit/trainers combo was becoming a habit she thought. But after all, she had spent most of her time behind her desk. As usual, the secretary had worn one of her racy outfits, making it hard to sit still for her over-imaginative boss.
She began to undress the minute she passed the door. Skirt, blazer, shirt, bra, and finally thong all came flying off as she made her way through the apartment, headed directly for the bedroom. It was already there, the feeling between her thighs. It had been there since the minute that damned secretary bent over to pick up a fallen pen… But now she could finally tend to it.
The door to the room was ajar and Alex pushed passed it. She flicked the switch, the lamplight gradually growing stronger. It revealed a crumpled bed cover, hiding an unrecognizable shape. The shape groaned. Alex smiled and moved towards the bed. She grabbed the cover and flung it to one side. Sophie was naked, just as her mistress liked. She turned towards her, her dark hair ruffled, eyes squinting in the soft light.
"Now?" She mumbled
Alex didn't even bother answering, but rather climbed onto the bed and crawled towards her lover lying on her stomach. Sophie giggled as her mistress climbed on top of her and felt her massive cock slide between her already moistening thighs.
"Someone's in a hurry."
Again, Alex didn't answer; she was too horny for that. She began rubbing herself against the young woman's pussy lips, the tip of her member slipping and sliding against the warm skin. Her perfect ass felt so good against her lower abdomen. Someday soon she would fuck that too, she thought to herself. Sophie's pussy was soaked, each rub of the cock wetting it further until it dripped.
Alex, unable to wait any longer, changed her position slightly, bringing her pelvis up and back before pushing forward again. The tip of the eight-inch cock slid straight in and its owner didn't stop, but rather kept pushing forward, drawing at first a groan and then a cry from her lover below her. She pushed deeper still, on and on until her waist was pressed hard up against Sophie's ass, crushing it against the sheets. The girl let out a gasp, her fingers clutching at the sheets, bracing for what was to come. The mistress remained still an instant, letting the pleasure of the penetration sink in and feeling Sophie dilate around her. And then she pulled back slowly before giving a first, strong shove of her waist, diving straight back in. It drew a pitiful groan from her lover. She thrust again, and again, each paired with its own reciprocal cry of pleasure from the round butted girl against the sheets.
Alex set a fast pace, building it steadily. Her thrusts were strong and evenly spaced. She had known from their first time, only a week ago, how Sophie liked to be fucked – hard and deliberately, never leaving a second to pause or hesitate. And tonight was no different. The slap of her pelvis against Sophie's rump grew louder and louder. Alex paused for an instant, only to grab her lover by the waist and hoist her up, onto all fours. She began fucking her again, laying a hand on the round butt. She drew it up and slapped it back down, strong and loud. Sophie screamed in delight. Alex reached around and fondled her lover's tits. Goddamn, this girl was perfect. Beneath her fingers, she felt firm, heavy globes. The sensation heightened her excitement, and for an instant, she thought she would lose control, unable to stop the irruption of cum. But she slowed her rhythm, and tensed, willing the orgasm down. No, if there was one thing that had dominated her desire all day, it had been the thought of that sweet, soft mouth around her cock. Sophie had tasted her on multiple occasions, but she hadn't yet swallowed her cum. Alex intended to remedy that.
She flipped her lover onto her back, grabbed her thighs, and spread them wide. She continued to hold them as she rammed her thick rod between the shaved lips once more, pushing the girl's legs further apart and back. Good thing Sophie was a dancer, Alex thought to herself before beginning the thrusts once more. By now, however, the dickgirl found it harder to contain her excitement. The long day and its multiple fantasies, fed by her overzealous secretary, made it near torture to restrain herself. Luckily, Sophie grew closer to cumming by the second. Her groans were growing louder until finally, she let out an ultimate cry, then immediately drew her breath in, her mouth open in silent and astounded pleasure. Her body tensed and then she let the breath out in a long moan. That was Alex's cue. She pulled out of her lover, swept her legs out of the way and shimmied up to her face. She presented the girl with the tip of her cock, her hand bringing her head up to kiss it. Sophie greedily accepted. Alex kept an iron grip on Sophie's head as she guided her lips up and down the first four inches of her cock. She could feel herself on the brink of cumming. She pushed deeper into her lover's mouth, her hand working faster. And finally, release came. The lovely dickgirl grew still – her muscles clenched. Sophie waited, her lips wrapped around the thick, pulsating shaft, its tip against the back of her throat. Alex drew back an inch, there was a pause and then the cum exploded from her tip, down her lover's throat. It came in four powerful jets. The dark-haired lover was only capable of swallowing two and so the final salvos spent themselves on her face and chest, covering her skin in a thick, warm shower.
Alex fell back onto the covers, spent and satisfied. Sophie cuddled up to her mistress, exhausted, the cum sticking to both their skin now. But her mistress was already asleep. Tomorrow would bring another long day.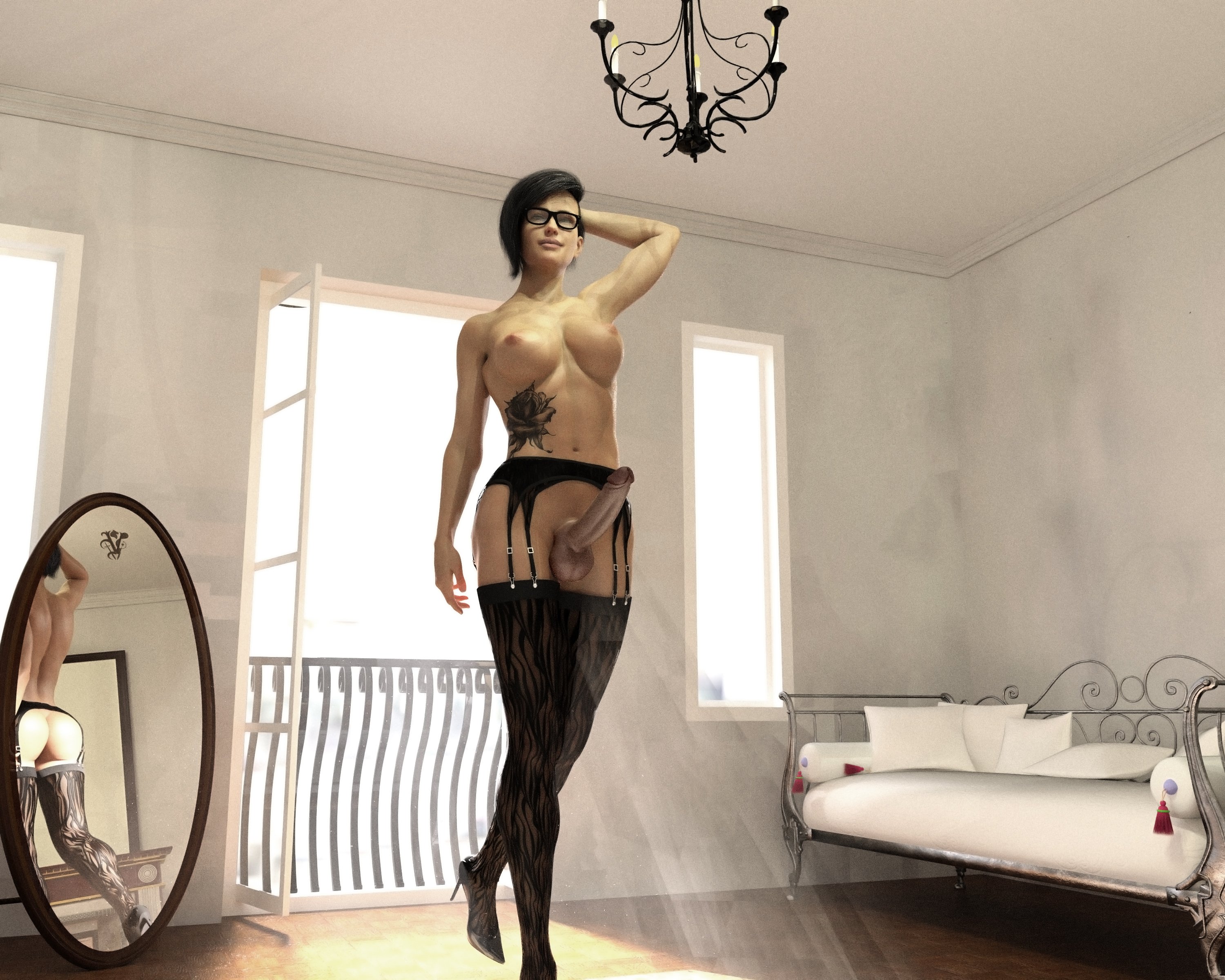 Introducing Alex
Alex, or Allie as some of her friends and lovers know her, is a successful woman. At least that's what she appears to be. Now don't get me wrong; she's successful, entrepreneurial, smart, beautiful, and strong. What she is not though, is a woman. Well, at least, not in your everyday sense. Alex is a dickgirl, a dickgirl with a near insatiable sexual appetite and overflowing imagination.
This is her story.