So Marie has asked a few of us here at Affect3D to talk about our favorite 3DX girl. And whilst Tara will always hold a special place in my heart, today I'm going to write about someone different, as I've recently fallen in love with one dickgirl in particular.
Leah by Forged3DX is, in my opinion, one of the genre's most enticing, beautiful, and mysterious characters. I mean, I am a massive fan of Forged3DX's work in general, and he has a number of characters I would gladly invite into my bed (I wish). Take the stunning Jordan, for example. Everything about that woman is hot. From her confident nonchalance to her barely contained secret… Gah. Anyhow — back to the matter at hand.
Leah! Oh Leah… Ok ok, so many of you are probably thinking: "Dude, really? I mean what about Velna or like a thousand other characters??" And sure, I totally agree. But you just can't help love. And I do love Leah. To put things in perspective, remember princess Zelda? Stupid question, I know. I'm sure I'm not alone in confidently saying she was by far my biggest childhood crush (please tell me I'm not). Right so now that I've admitted my bizarre infatuation with fictional, 3D heroines, again — back to Leah.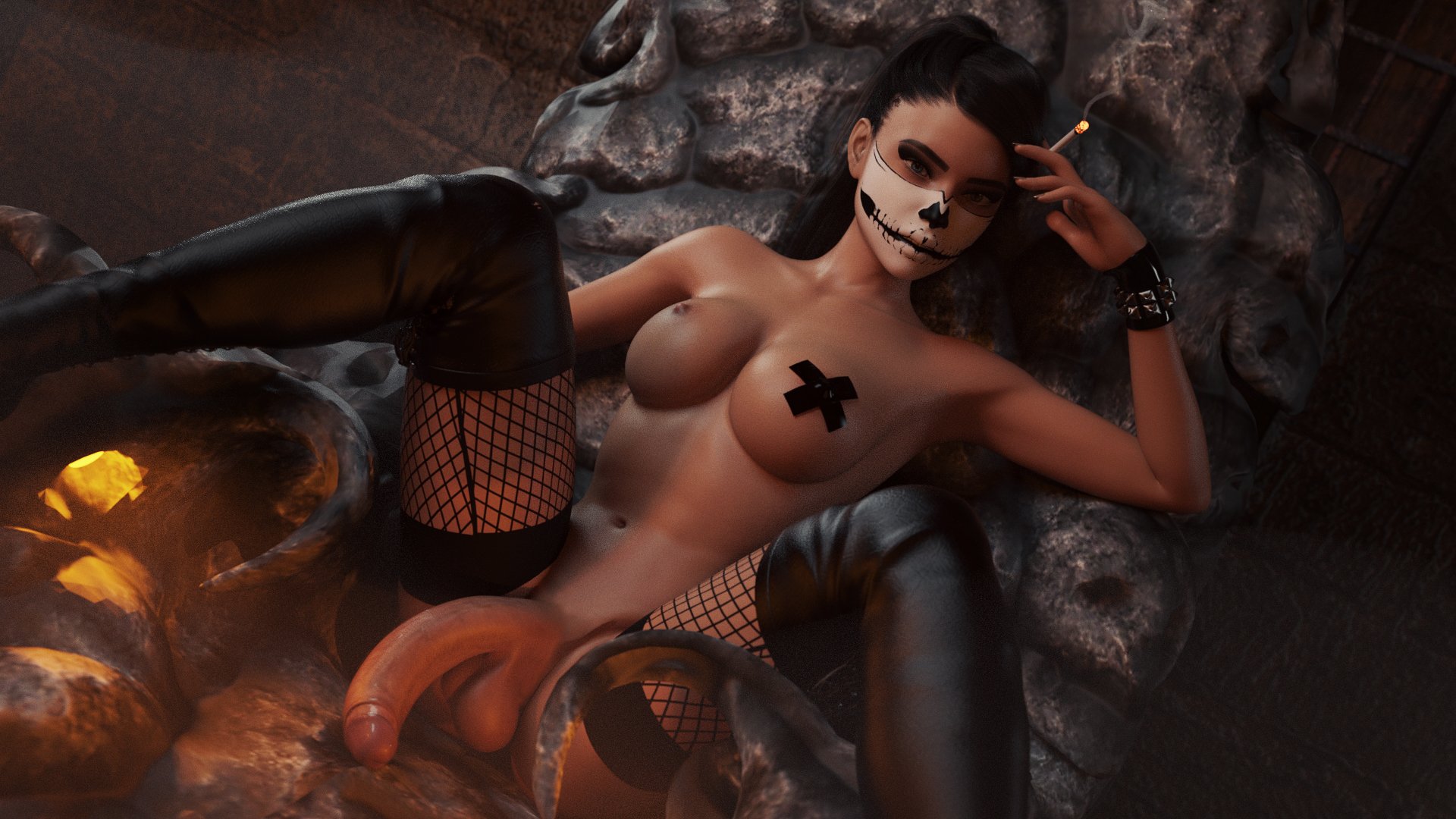 I first came across her in the Tales From the Sex Crypt Halloween charity release. You see, normally, no matter how much I love a product, I'll always delete the files after having reviewed them out of respect for the artist. But I have an admission to make. I just couldn't with Leah's story (p.88 onwards). Everything about her made looking away impossible – from her cool, deep blue stare, to the casual cigarette in her hand, her perfect tits, and curves and (I have no trouble admitting this as a straight guy) that massive, semi-hard cock between her thighs. I even picked up my phone to dump my non-existent girlfriend on the spot. Then I remembered I'm single (ah the joy). Leah looked so regal and confident in her dark crypt, with that beautiful Dia de Los Muertos mask on her face.
What I love about Leah is the mystery that shrouds her. She may be an increasingly recurring character in Forged's "stable", however, a lot about her remains hidden. Firstly, true to Forged3DX's style, she never speaks – as such I can't help but wonder what exactly goes on in that cute head of hers. Secondly, she's got dark hair. And whilst I love blondes, there's something exotic and captivating about dark haired women. And that mystery is amplified in Leah's case. From her ever enticing stances to that cheeky innocence, she demands our attention and desire. I dunno, maybe I just got my heart broken by a brunette and ever since I just can't help but gravitate back towards them. Fuck me right?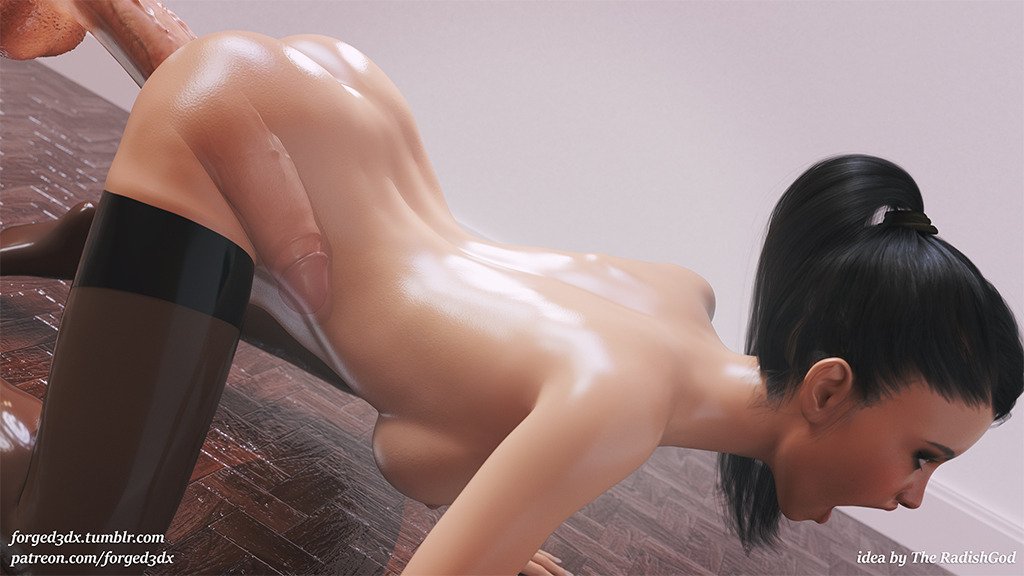 The only thing missing, and Forged has given a glimpse of this, is Leah being fucked by a just as massive cock as her own. A great thing about this talented artist is that he tends to present his characters both with and without their male genitalia. Hence, it wouldn't be that far of a stretch to imagine a scene where a totally female Leah get's seduced by a male character. Although gotta say, Leah definitely rocks that cock. Fuck it, let's leave her as she is.