There's some "prevailing wisdom" floating around out there that bigger is better. But in 3DX is that true? I suspect it only works up to a point, with most people finding said point far before a character's tits are larger than the rest of her body. Not all people see it this way, though, with the trend in 3D animated porn flowing toward the "bigger is better" philosophy rather than away. I wouldn't say it dominates the 3DX scene, but it's prevalent. Big busts and giant cocks are expected to be in a week's batch of new porn, even if it's not expected from every creator, or every piece they put out. In any kind of art, there's some expectation that an artist is simply creating what they like, and that should be respected, but with 3DX there seems to be a sort of competitive brinkmanship in creators one-upping either their peers or their own previous work. And while massive proportions on certain "assets" are certainly some people's cups of tea, I'd argue that the median has strayed well into the "too big" region.
Defining Things
Disregarding the tiny-loving crowd (because, let's face it, it is, well, *tiny*), imagine there are three ranges for "asset" size in 3DX.
The first is your "vanilla porn" range. You get some bouncy Ds and DDs, some 8 or 9 inch cocks; it's the expected fare for live-action, vanilla porn. It appeals to the majority of porn consumers.
The second range is where I'd say that the large majority of popular 3DX porn falls. Here you'll find Sayako, Cerene, all of The Dude's girls, and many others whose proportions would put the average A-list porn star to shame. These proportions are "too big" for the majority of porn viewers.
The third range is the extreme size fetishist area. These people want cocks bigger than torsos (or whatever happens to be getting fucked) and tits ranging anywhere from the size of a sofa to a full-size Sedan. To the average porn viewer this is grotesque, and to even that average A3D fan, it might be pushing the envelope.

Why have so many 3DX artists chosen the second range? Is it simply a matter of the artists' personal tastes, or are other variables at play? Any artists want to chime in?
Boob Size and Audience Size
Whatever the motive, I contest that it's less than advantageous planting into the center of that second range. My first point here is simply a matter of audience. Yes, artists should make art for themselves. Yes, I know you can do literally whatever you want when it comes to animated porn. But porn itself is entertainment and fantasy designed for titillation and getting off. This is purposed art, and regardless of it being more commercial or boutique or artistic, that purpose is important. If 3DX porn can't get a person off, then it's failed to be porn.
Which is why matching the audience is important. Trying to sell hetero porn to gay folks is a poor choice. Likewise, offering extreme fetishist porn to the vanilla crowd will disgust more than convert. Whether you're trying to earn a profit, fans, or praise, you need to match your audience.  So if a lot of plus-sized "assets" in 3DX fall next to the extreme size fetishist end of things and doesn't make it there, that's just sub-optimal. Niche porn sells best when it panders hard to the given niches it wants to satisfy, delivering at a high-level — and not just getting halfway to the mark.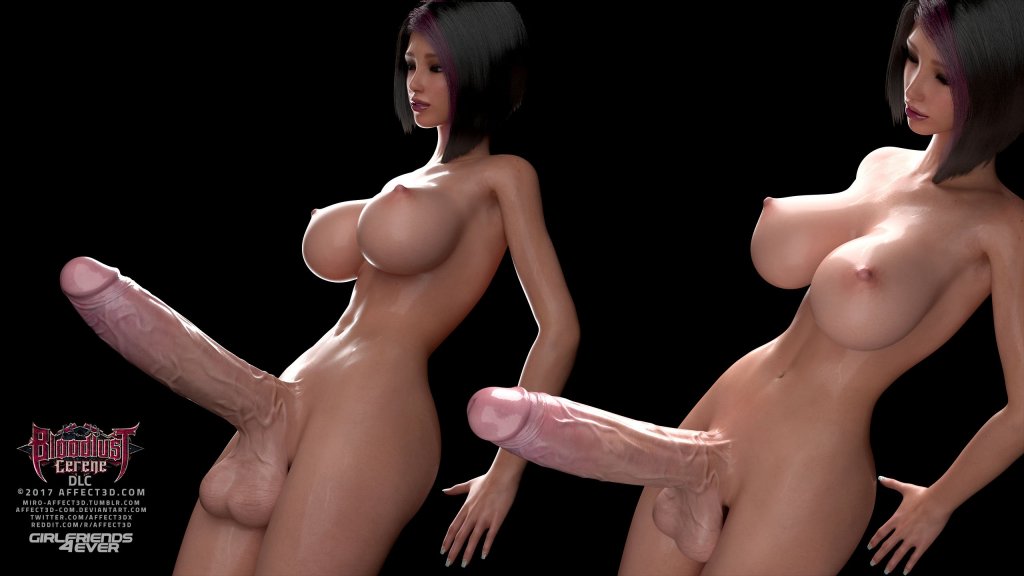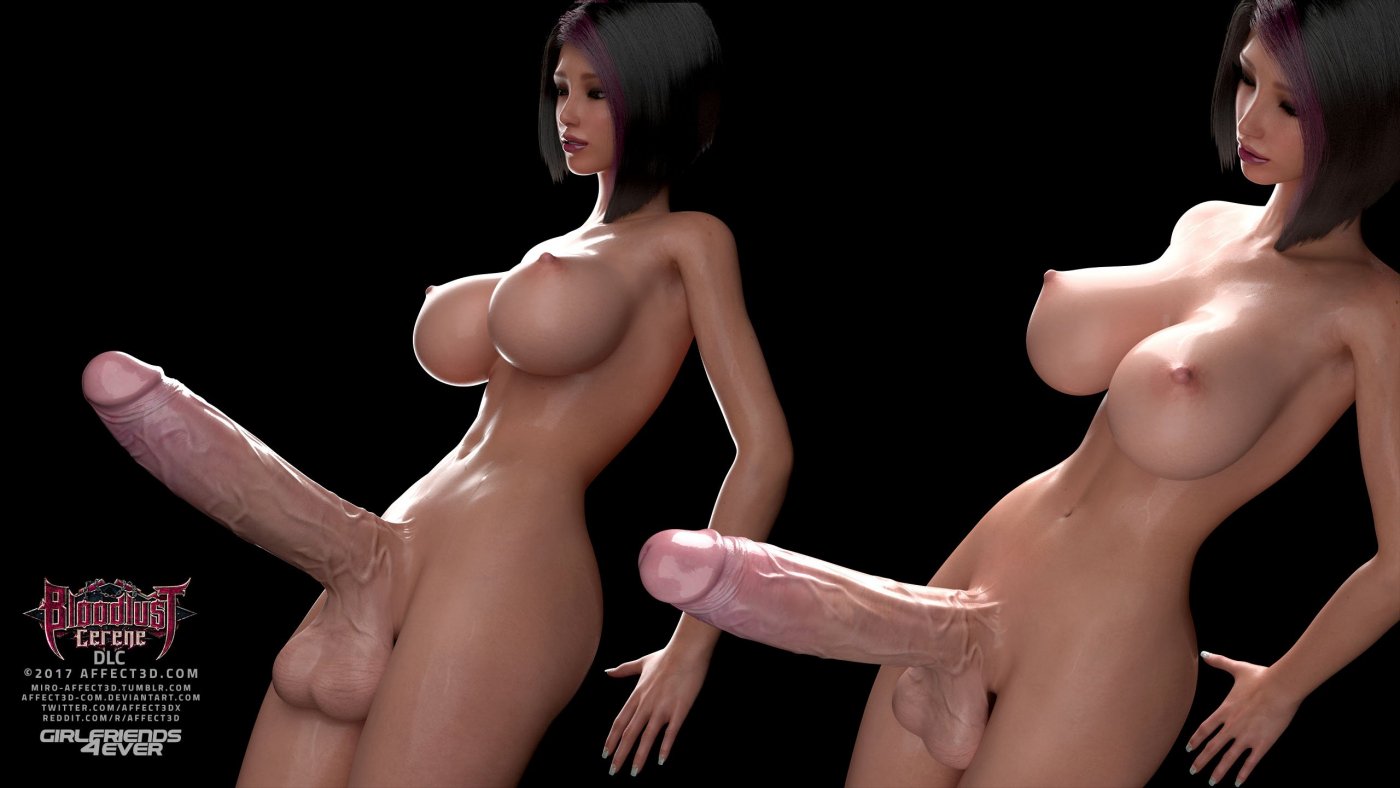 Porn that's beyond the "sexy comfort range" for vanilla, yet failing to reach that niche appeal, is likely to disappoint both audiences. To what degree depends on the individuals and where the porn design specifically falls on the spectrum, but its place on the spectrum only makes it worse by trying to satisfy everyone.
This is, of course, my opinion. If you adore most of that second range, you'll probably hate any suggestion to deviate from it. But spending habits tend to get much larger on the extreme ends, and more numerous in the "typical" bands. 3DX artists looking to make a profit are playing a gambit in picking between the majority or one of two niche audiences. Which would you rather cater to?
More Inches, More Problems
Whether you agree or disagree with that, or have experienced a different financial reality as a content creator, there's a second problem with going "too big" which does not lie: giant assets interfere with posing models.
Trying to align two gals for a kiss when they have massive boobs and have it look good? "Hard" is a gentle way of putting it. Fitting a massive cock into a fucktoy's model and animating it to look natural enough to not seem "bad" or absurdly comical? Good luck.
Issues abound with trying to pose models and have it look sexy-cool when various "assets" get gigantic. Dickgirls have it even worse as, on top of potentially having giant versions of both, posing gets extra weird when they have cocks on top of cunts. Is receiving vaginal sex a rarity for dickgirls because it's less desirable, or because it's awkward as fuck to get it to look right? And those massive cocks make it hard as fuck to get that right.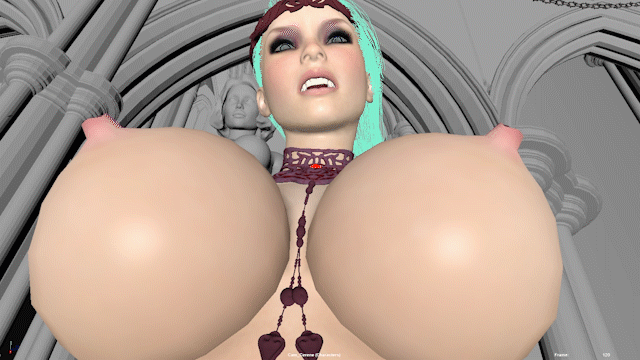 High-quality animation is challenging and time-consuming to pull off all on its own — it's vastly easier to pump out image set after image set, and doing that well isn't an inconsequential feat, either. While there are many factors standing between us and high volumes of delicious animated 3DX, the problem only gets larger with oversized assets filling up our models, and that problem will persist even as the other factors get streamlined.
At the end of the day, I'd rather pay for higher quality porn than spend any money on mediocre quality porn, and at present it's often easier to get there with more "average" sized models. I don't dislike them having larger tits and ass while they're in that spectrum, but it's pretty common to see it dive past "better" and reach "no longer sexy, immersive or aligning well." A mouth stretched to paper thin silliness around a massively enlarged cock, or a cock mouth-fucking into what's clearly someone's brain is just a boner-killer.
What's Your Take?
On a site catering to the fans of Girlfriends 4 Ever, I understand I'm playing devil's advocate here, and I'm likely in the vocal minority with this opinion. Is going too big a problem? Where's your line for bigger and better?