Cerene's Hair Update – WIP Video
Giving Cerene a hairstyle that works from all camera angles has been a longtime wish of ours. You may have noticed seeing her hair suddenly being swept to the other side of her face on some occasions, but that may soon no longer be necessary.
We've found a hairstyle for Cerene that seems to flatter her face from both the left and right angle, so we put it to the test in an actual animation to see what it looks like in practice. Below you can find a short snippet of the Bloodlust: Lanessa – Blood Crown featuring Cerene with her redone hairstyle.
Although Cerene's updated hairdo looks similar to her current hairstyle, there are some differences. The hair framing her face is sleeker than her current hairstyle and her curls are a little shorter. The hairdresser also slicked her hair back a little tighter for a smoother finish in the back, and he tweaked her hairline so the hairstyle also works without the tiara needing to be there to keep it in place.
Anyways, have a look for yourself at the preview clip below! Please note the scene is still a work in progress.
Lanessa's Lair Update – WIP Video
We also have an update on the look of Lanessa's throne room. The production team has spent some time adjusting the lighting in the room to find a better balance of light and dark. The pale moonlight seeping in from the windows will remain the main source of light to illuminate the hall while the amber orbs on either side of Lanessa's throne give off a faint warm glow to draw the eye to the master of the castle.
When the characters are inside the room, extra lights will be added to make sure they are properly lit in all areas.
On top of adjusting the lighting, the production team also has begun experimenting with fog. It's purpose is to intensify the dark, haunted atmosphere inside the room. Although the look of the fog is not final yet, we have a short video clip of a trial run to show you the kind of vibe we're going for. The fog you'll see in the video clip is quite thick, but it will be a lot lighter in its final form so it won't obscure any of the action (aka it won't fogblock us) in the animation.
We'll do another fog update in a future WIP update, but for now, have a look at the WIP video and let us know what you think of it so far!
Love Thy Neighbor – Image Set – Store Release!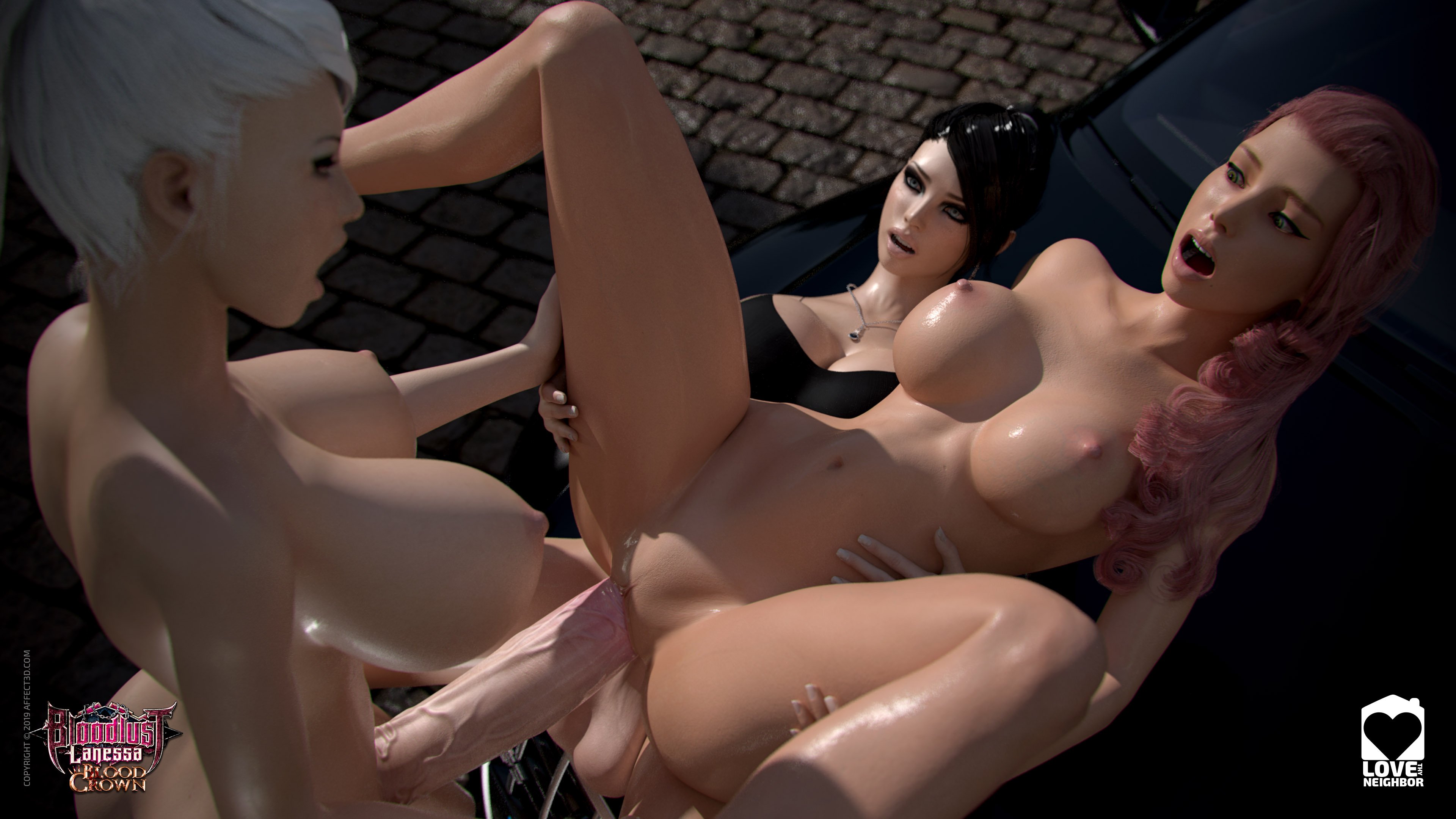 Miro's latest image set, Love Thy Neighbor, will be released in the Affect3D Store on Saturday, October 19th! You can pick up Love Thy Neighbor for just $10.00 in the store. The product contains 158 action-packed images for you to flip through – two cum scenes included – and comes with a short sex animation based off a double penetration position. Keep scrolling for more info and make sure you don't miss the preview images!
Storyline
As we mentioned in the previous WIP update, the story builds up to a hot threesome between Lanessa, Light Lanessa (who made her first appearance in Your Ass Is Mine as Lanessa's alter ego) and  their neighbor Arielle.
Lanessa and Light Lanessa have just arrived at their new house, and are in the mood to have pre-housewarming party in their driveway, when Arielle shows up unexpectedly. She turns up just in time to witness Lanessa's head bobbing up and down in Light Lanessa's lap. A steamy blowjob isn't quite the warm welcome the girl next door had in mind, but her shock and awe quickly turn to arousal. When Light Lanessa boldly gets down on her knees to swallow Lanessa's cock right in front of her, Arielle can't help but imagine how good it would feel to have one of those thick cocks moving in and out of her instead. Luckily for her, her new neighbors are more than happy to put their dicks wherever she wants them.
What's Included
158 HD images in JPG format:

126 final images
9 cumshot variations
24 outtakes
8 WIP images of Arielle

1 looping DP animation (25 seconds long, with vocals) of Arielle taking Lanessa's cock in her ass and Light Lanessa's cock in her pussy.
Important for Miro's patrons: if you are an active (Founders) tier 1 subscriber of miro's Patreon, you already have access to this image set via Patreon! If you're an active (Founders) tier 2 subscriber you have access to the image set and the DP animation!
Love Thy Neighbor – Preview Images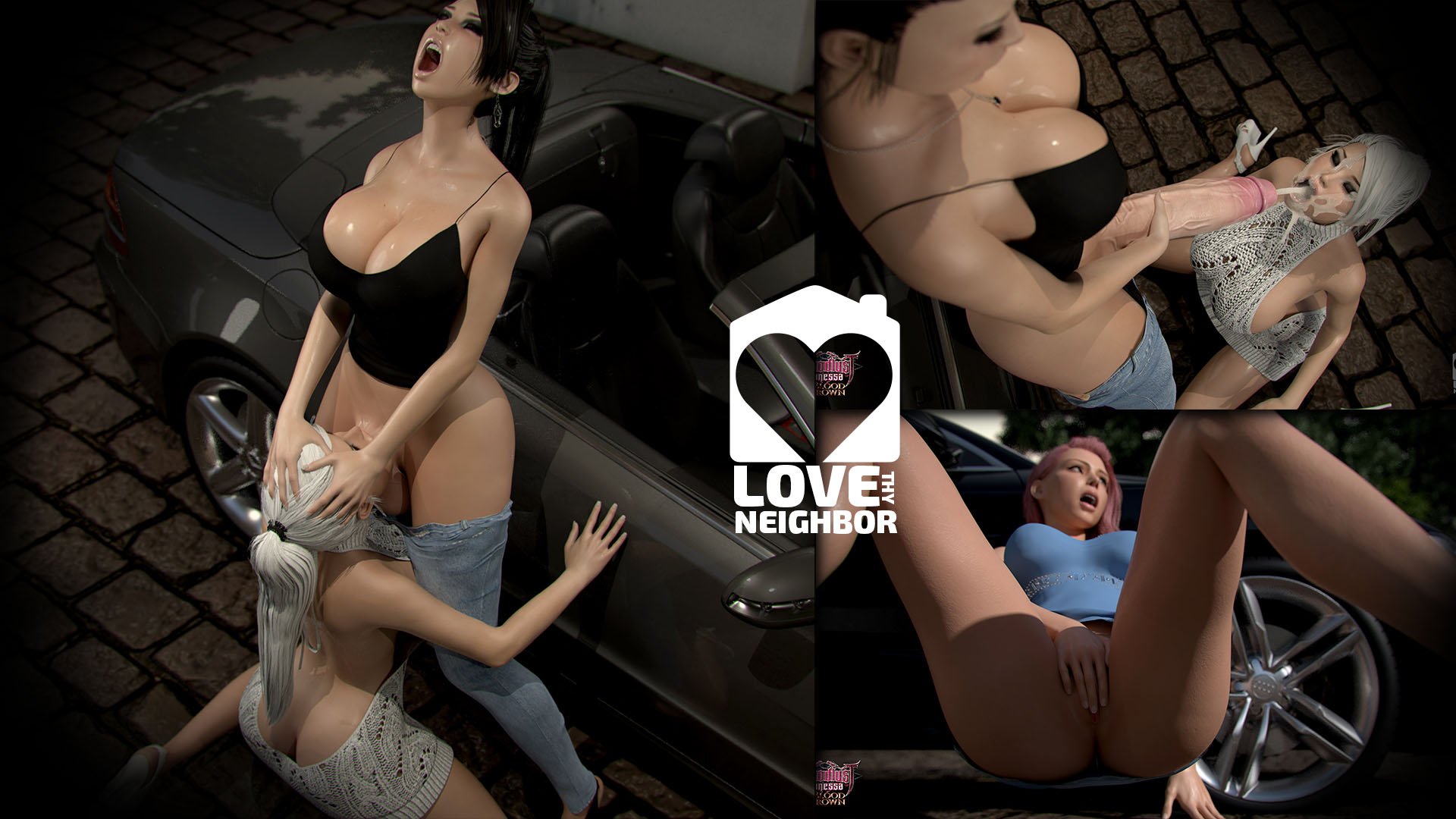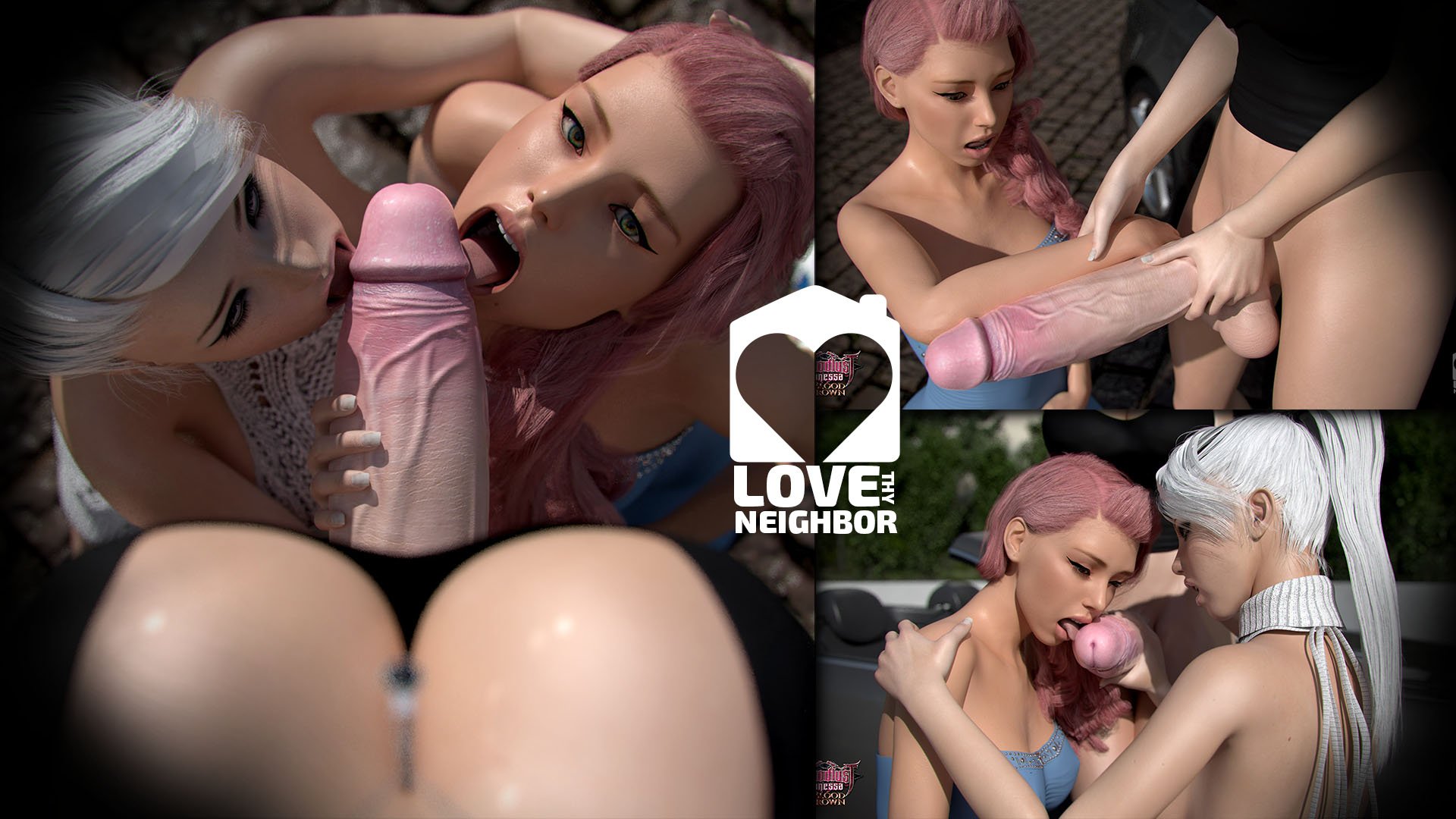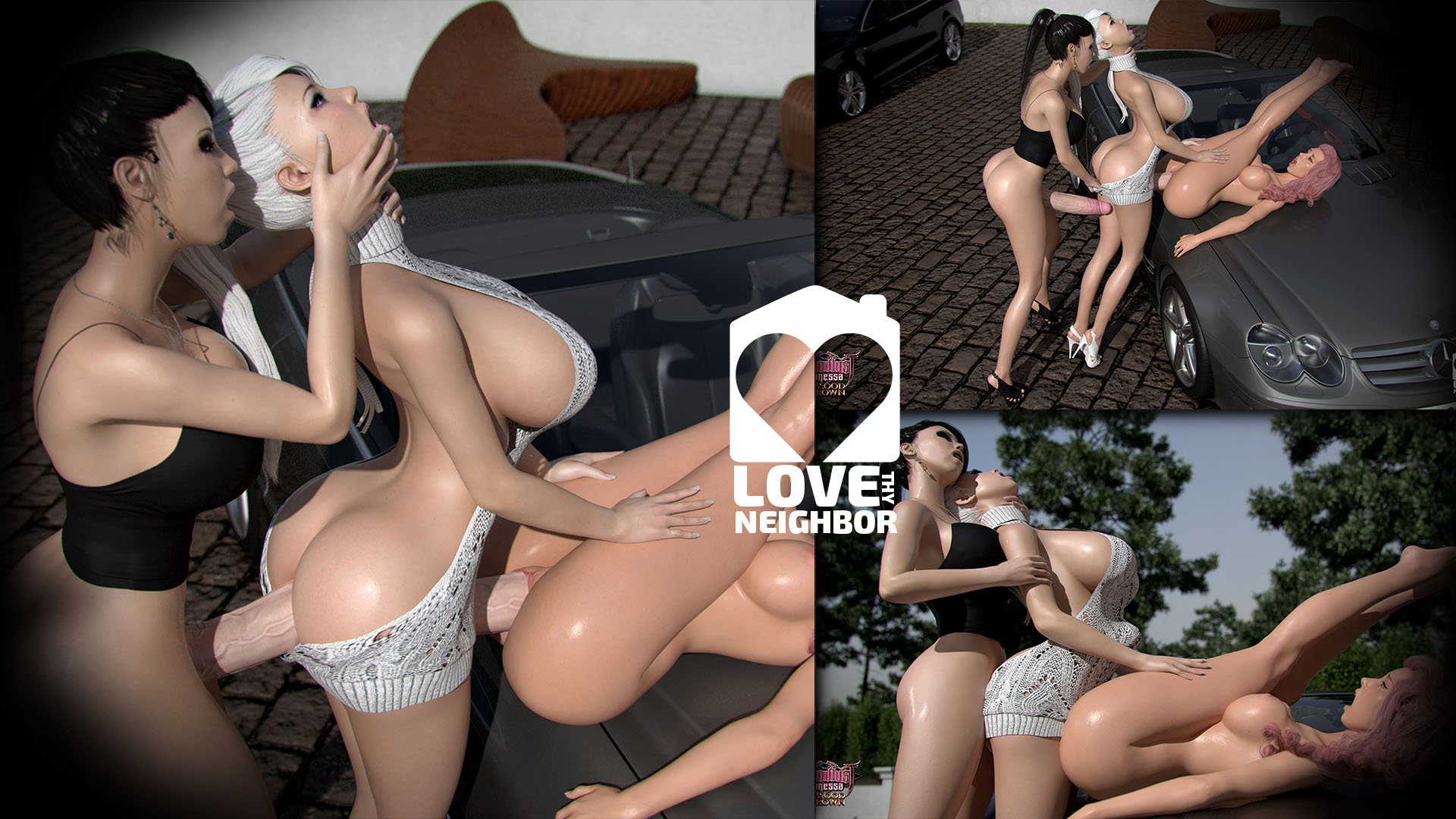 Love Thy Neighbor Full Preview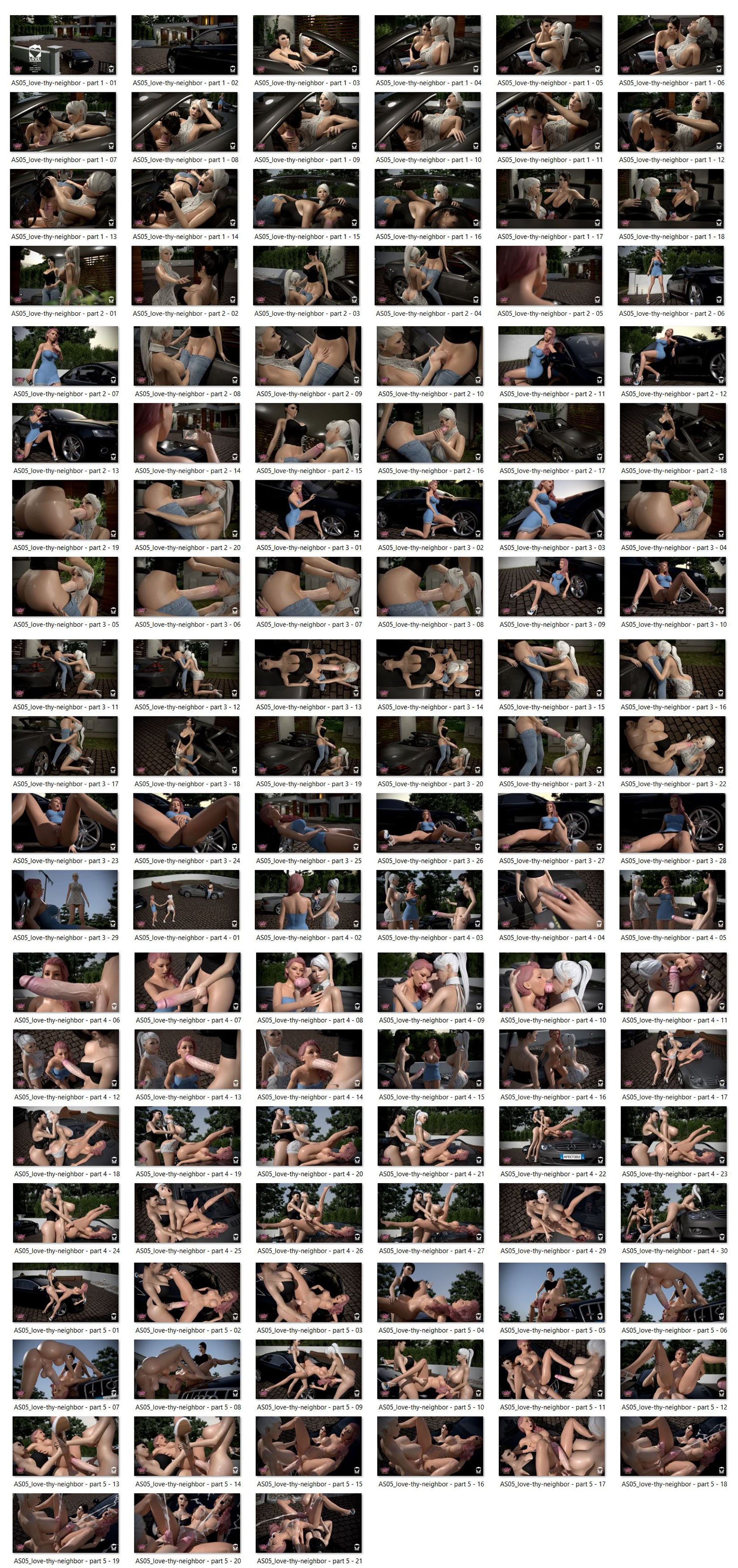 Miro's Slushe Page
If you want to see more preview images of Love Thy Neighbor or Miro's other image sets, such as Circle of Love and Your Ass Is Mine, you can find them in his Slushe gallery. You'll find previews of his future works there as well! Click the link below to check out all the goodies on his Slushe page.
Miro's Patreon
If you're interested in supporting creations by Miro and crew, come over to his Patreon!
There are 5 different membership types to choose from and each membership comes with its own perks.  Depending on the membership you pick, you can receive early access to production updates, image sets, image set animations, polls and you get to hang out with Miro. Check out the membership descriptions on his Patreon page to find out which one suits you best.