We're back with the third installment of the weekly Bloodlust Dick Girl DLC WIP update!
Let's talk about teeth. Or if you want to get more specific, let's talk about fangs. According to the members of the WIP Forum thread, there is a certain position in the upcoming DLC that's practically begging for some vampire action. If you've seen the recording we shared in WIP update #2, you'll know what position I'm talking about.
A woman's neck is a highly sensitive and intimate place. A little bit of sensual biting and nibbling can make her wet with desire. So it's no surprise that people have been wondering about how Cerene's fangs may spice up the sexual intensity between herself and Sophia. Cerene could drag her sharp fangs up along Sophia's neck, carefully nibbling in tender places. Feeling Sophia shivering against her, fully aware that a little more pressure could break the soft skin.  
Or what could be hotter than Cerene losing control of herself as she's driving her cock up Sophia's tight pussy, only to have her sinking her fangs into the Duchess' neck in the heat of the moment.  
People have been speculating that a passionate bite scene might result in Sophia turning into a vampire herself at some point… Wouldn't that make for an interesting plot twist?   
Bloodlust Dick Girl Interactive Story (non-canon)
This week we've had some non-canon fun going on the forum too. We're playing with an interactive side story, which we want to share with you all. It's just for fun and anything goes, so let's get right into it!
In this story line we challenged the Duchess to take on not one Cerene but two of her.
Naturally, Cerene has decided to take the lead. She walks right up to her double, capturing her lips in a hard kiss and slipping her tongue into her mouth.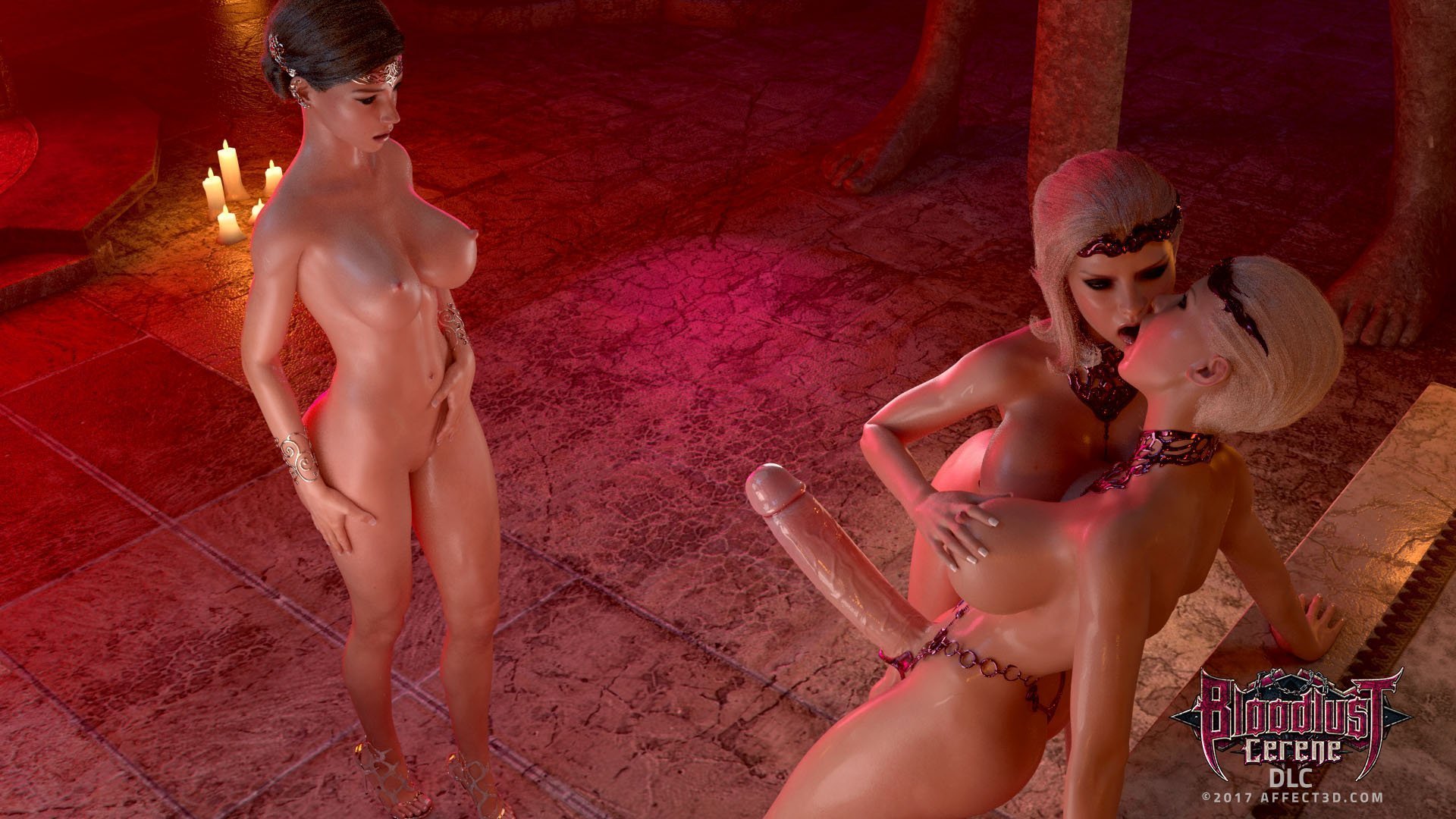 Sophia watches in awe as Cerene slides her fingers up the swell of her double's bare breast, kneading it in her hand.
Feeling her pussy throbbing like crazy at the sight of Cerene hungrily kissing her double, Sophia can't resist the urge to reach out.
Instinctively, she grabs the head of Cerene's cock in a firm grip. She only realizes the possible implications of her actions when it's too late. However, to her surprise there is no reaction from the two Cerene's as they continue locking their tongues together.
So…what happens next?  Vote for what you think should happen in the poll below!
Vote here on what happens next:
What will Sophia do?
c) Sophia sneaks in a kiss on the cock head with a bit of tongue thrown in.

57%, 653

votes

653 votes - 57% of all votes

a) Sophia, spurred on by the fact she\'s unnoticed, grabs the dick with both hands and starts massaging it furiously.

28%, 313

votes

313 votes - 28% of all votes

b) Sophia gets angry and slaps the dick \"Are you girls just going to make out without me?\"

15%, 170

votes

170 votes - 15% of all votes
Total Votes: 1136
July 20, 2017
-
July 24, 2017
Voting is closed
The poll will close at midnight on Sunday (23 July), so don't forget to vote!
Want to see the whole story with a 20 inch version of the dick?
Then visit the
Bloodlust WIP Forum thread
to see what the forum members voted for and to get more updates on miro's progress!