Interview with Puppetmaster and Marie about Sensual Adventures: Episode 3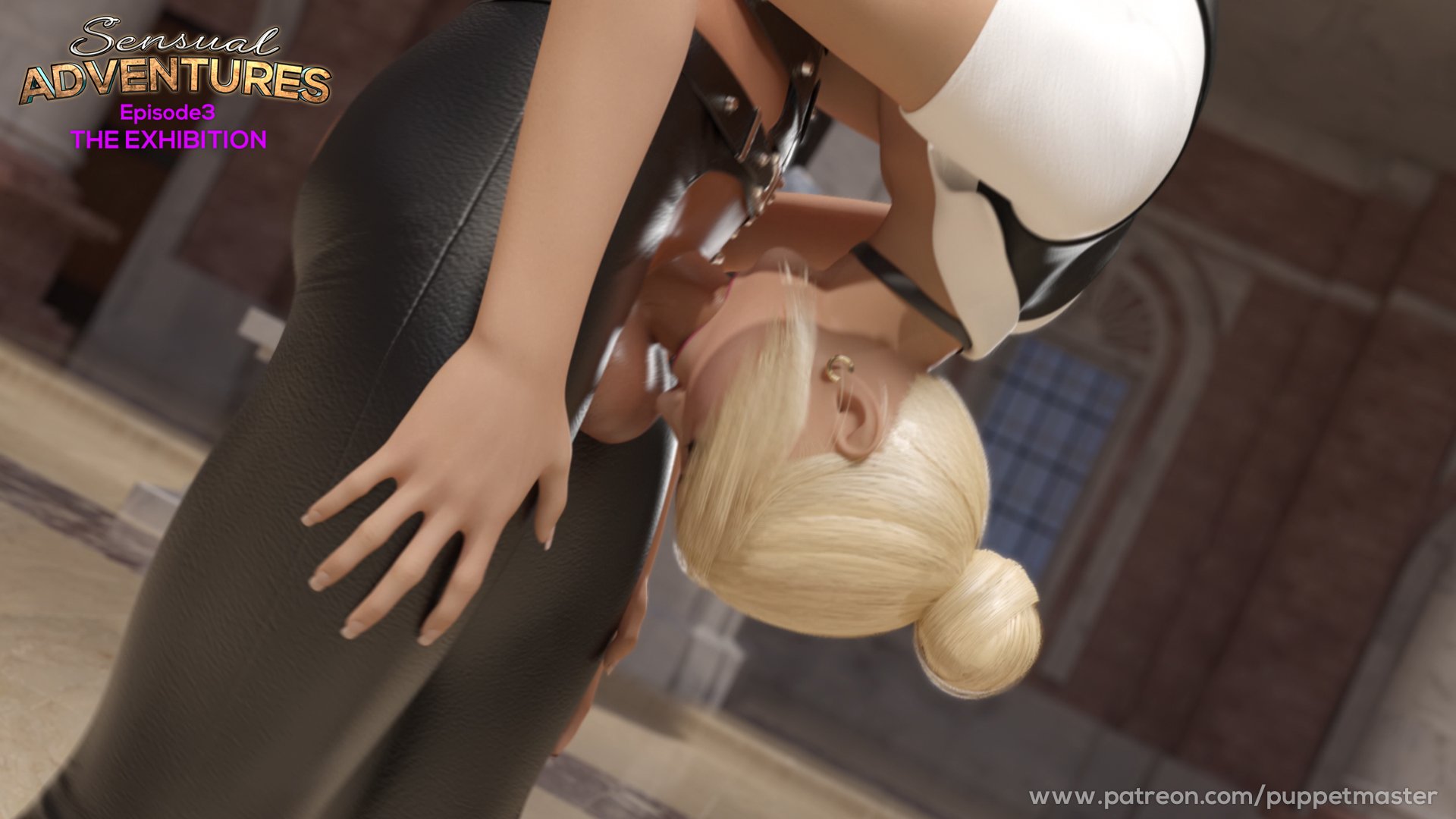 We chatted with both Puppetmaster and Marie Fasolt to get a bit more information on Sensual Adventures: Episode 3, The Exhibition which comes out later today.
Elayn: I love double entendres, so naturally I love the title. Was the inspiration a sudden light bulb, or part of a brainstorming session?
Marie: There's not much of a juicy answer here, unfortunately. Puppet messaged me, said "we need the subtitle for episode 3," and I replied back about a minute later with the answer. I wouldn't call it a light bulb moment because it just seemed so obvious, but maybe that's just because we all work in porn.
Elayn: What brings them to Cairo?
Marie: Most people who've kept up will already know the answer to this, but if you missed episodes 1 and 2, all you need to know is that Brittany and Trinity came to Cairo for "the rest of the map." No one watching really knows what "the map" is yet, but it's important to both the girls, and they were looking for it before episode 1.
Elayn: Do you have any particular fascination with Egyptian mythology? If so, what is most interesting to you? Any Egyptian magic coming in the future?
Puppetmaster: I've always been attracted to Egypt, because of the mystic appeal that it has. There is so much about the Egyptian culture that is simply stunning, like how they built the pyramids. We still aren't one hundred percent sure how they were built today. We also don't know how they aligned the pyramids so exactly, to the millimeter. That's insane. When I was working in London, I went to the British National Museum, and spent a lot of time in the Egyptian exhibit.
So yeah, Egyptian mysticism, pharaohs, the whole style of everything (especially the use of gold), the Book of the Dead, the monumental way of building things, and all this stuff… Oh, and I have to say, Indiana Jones was a big inspiration for me as well.
Marie: Yeah, so we've had Egypt in mind from really early on. One or two months after the release of Brittany Home Alone, Puppetmaster approached me about writing a script for his next animation. He was interested in scaling up the production from his previous works (Brittany's Joy Ride and Brittany Home Alone) by adding a story and dialogue. Brittany and Trinity were blank slates at the time, and he told me I could write anything I wanted. As a writer, I don't like working from a completely blank page, however, so I asked him to think a bit about what his favorite genres were and what kind of stories he might be interested in telling. A day later we had a meeting on Skype and he answered my question with a question: "Do you know the series Uncharted?" And that's basically all he needed to say for us to get on the same page.
So, from that first meeting we decided on using Indiana Jones, Uncharted, and Tomb Raider as our inspiration. Puppetmaster had already started building Brittany's apartment as his next setting, however, so we stuck with that but made it our goal to go to more exotic locations as the story progressed. Anyone who was paying close attention to the dialogue in episode 1, as well as the design elements of the landing page and the movie posters, will have picked up on some clues that there was always an underlying adventure story, even though the sex and the relationship drama took precedence.
Egypt came into the mix when post-production on episode 1 was nearly finished. Puppetmaster sent me a beautiful short film set in ancient Egypt, and told me he would love to work in a similar setting. So that week we outlined the rest of the series, with Egypt being the goal. The trip to the Museum of Egyptian Antiquities is just the first stop on their journey, so there's a lot more to come.
Elayn: Sadly, we didn't have time to talk about Ancient Aliens 😛
Elayn: Their clothing is hot, but not exactly in fashion for B & E. Were they both thinking, "I totally wanna fuck in a museum?"
Marie: We did write a story element to the clothing, but it won't be touched on until the next Sensual Adventures game.
Puppetmaster: I wanted to have contrast between the two characters, and I think the outfits are pretty contrasty. For Brittany, I wanted to have the more schoolgirl type outfit because she's the nice girl type. Of course, she can also be mean. Trinity is more of the hardcore look. Leather just fits her character more.
Elayn: The 69 is probably the most epic 69 ever. How did it come to be?
Puppetmaster: Is it? Cool. I wasn't aware of that actually. I always thought they liked self-fucking most. Well, I tried a couple of different variations where they were laying on their side, but it just wasn't that appealing visually. For all the poses, I'm watching a lot of reference material… everyday.
Marie: "Research."
Puppetmaster: A couple of hours worth.
But actually, for all the poses I'm doing some research, and if I find one especially appealing, then I have to adapt the animation to the size of the genitals. That was really hard, to not have them in too extreme poses that looked unnatural. If you play the game, they can also cum in that position, and that was very difficult to get the dick out of the mouth, see the cumshot, and put it back in the mouth because of the sheer size of it. It was technically not easy to create.
Elayn: Any new tools or processes in use since the last episode?
Puppetmaster: Time. More time. Also, I stopped doing everything myself. The outfits were outsourced, I just made a design sketch. Then I can really focus on the animation. The scenery I did myself, but just made blocks, like a wall, and a column, so later you can just connect it like Lego. It's a more efficient way of building the environment, and lets you reuse textures. That's important later on for the game, to be as efficient as possible with textures and geometry.
I also asked my patrons, if I create patron specific animations, would it be ok if the full productions take longer, and like 99% said yes. That gave me more time to do things properly, instead of rushing them. I spent more time, and got help, such as with the highly optimized outfits, and the cumshots, which are done by Morfium. Trinity's outfit was done by [MF], and Brittany's outfit by COSMO3DX.
The music was also very important. If you watch it in mute, the long establishing shot in the beginning is just boring. When my audio guy added the music — and also an echo in the museum — it really adds a lot to the atmosphere. It's amazing. Also, we had a real previz this time, instead of just adding audio to the finished animation, so we had more time to polish it.
I hope everybody really likes it.